How we'll build with partners to bring more people to self-custody
We're building a self-custody bitcoin wallet designed to empower the next 100 million people to truly own and manage their money with bitcoin. Part of that mission relies on connecting people between two worlds: the world of today's domestic or regional centralized monetary systems (fiat currencies like the Euro, Nigerian Naira or Indian Rupee) and bitcoin's distributed, borderless financial system.
This is not a journey we plan to take alone: we want to work with partners to bridge the gap between fiat and bitcoin financial systems, providing customers with the access and information they need to buy, sell and store bitcoin.
Today, we're sharing more about how we plan to build with others to make this a reality.
We want to solve our two "jobs to be done" outlined previously in our product principles post (essentially, truly own and manage my bitcoin) in a way that makes self-custody more accessible than ever before. For bitcoin and self-custody to reach its full potential, it needs to be easy to use - and just as easy to protect your long-term savings as it is to pay for things and send money to friends and family. Our self-custody wallet aims to do just that by putting the keys (literally) to your money in your hands while ensuring you have the resiliency and control to keep it safe.
But this alone will not increase the number of people using self-custody.
Despite being around since 2009, bitcoin is still early in its journey to reach a wide audience globally: it's not yet easy to pay for food at your local market in bitcoin; not all of your friends or family members have a bitcoin wallet to easily accept money when you need to pay them back; not many hospitals we know will accept payment for services in bitcoin. Even as bitcoin becomes a more widely-accepted form of payment over time, we still believe customers will have a need to convert between bitcoin and their local fiat currencies.
That's where partners come in.
Through global and local partnerships with exchanges and on/off ramp partners, we provide customers with ways to access a smooth, transparent buy and sell experience, ultimately helping them navigate between fiat and bitcoin financial systems, wherever they are in the world.
While we focused on our strengths (secure and easy-to-use mobile and hardware experiences distributed globally), we are looking to partner with safe and transparent companies that help customers buy and sell bitcoin around the world. We plan to partner with responsible, product-driven companies that have done the hard work to deepen their local fiat payment method reach and localize their onboarding experiences.
Together, we can create a seamless product experience that helps customers find the right on/off ramp service that fits their needs. And through that integrated partner experience, we'll work with these partners to ensure customers can safely withdraw their bitcoin from those custodial platforms immediately after purchasing the bitcoin - ensuring customers benefit from what exchanges do best (converting fiat currencies to/from bitcoin) while ensuring that customers truly own their bitcoin in the self-custody wallet we offer.
Buying and selling with global exchanges, and then truly owning your bitcoin on your terms through safe and easy self-custody. All without the anxiety of copying and pasting bitcoin addresses and having to jump between separate app and web experiences.
Quality over quantity: what we look for in partners
As we begin to partner with exchanges and on/off ramp partners globally, we have a choice: focus on breadth globally given our desire to serve customers all around the world from our earliest days; or go deeper with a smaller set of partners. We've decided to focus on the latter. In conducting customer research across 6 continents, we've developed a set of criteria that we believe is important to identify who we work with as partners. This means we will drive towards a "quality over quantity" approach, and develop a set of standards for partners to agree upon before joining our ecosystem, focusing on price transparency and depth in local payment method coverage as well as how the partner enables  onboarding and withdrawals.
Below we outline what matters most to us when selecting on/off ramp partners.
On/off ramp partner criteria
Global and Regional Reach and Depth, including local fiat payment methods: We want to ensure that our partners are able to provide a great buy and sell experience. This means they not only, in aggregate, need to serve a wide range of customers globally, but they also need to have depth in local payment methods. While many companies support creating an account in many countries, in reality, they often support a much lower number in a locally-relevant way with local fiat-based payment methods that are prevalent in those countries (think: local bank payment methods, digital wallets, etc). For countries we expect to serve in-depth, we may find that one partner might serve that individual country very well and even though they are not in any other countries, we'll still prioritize working with them given how important that market is for our customers. Other partners will have global or regional depth and we'll find efficiencies of scale as we build a global integration that reaches many customers at once. Other things we evaluate when examining a partner's depth in a given market or region are things like local language support and customer support operations.
Product Experience: We are looking for partners with excellent technical expertise and product design capabilities when it comes to sign up and onboarding, payment flows and API capabilities to ensure a seamless integration. Ideally, we work with partners who already have designed an API experience for other wallets to integrate their on/off ramp services, but we are also excited about working with companies who are interested in entering this space as we believe we can help with integration design while they focus on what they know the best: regulated onboarding and trading capabilities. Additionally, we look for partners who are equally excited about getting customer feedback and remaining open to evolving product, UX and technical integrations over time based on those learnings.
Price Transparency: This is an important topic for us, as we want to enable our customers to see the true cost of any transaction they choose to make via our partners. We ask our partners to enable a transparent breakdown of price: this means, not only their transaction fees which are often governed by fiat payment method costs, but also their price of that transaction - which includes their spread that they add on top of the mid-market bitcoin and fiat currency exchange rate. Additionally network fees should clearly be broken down so customers understand what they will pay at the end of the day to convert to or from bitcoin and their local currency. This price transparency allows us to clearly show the customer the true cost of their purchase or sale and easily compare how much bitcoin they will gain or lose when they move their money to or from their self-custody wallet and the exchange partner. We are excited about creating a platform that shows customers the true cost of these transactions and avoids a world of surprise or hidden fees.
Customer onboarding: As we know from countless customer interviews, in addition to price considerations, customers also care about how easy and transparent the sign up process is for a potential partner. To ensure a smooth customer experience, we want to know how easy a potential partner makes the customer sign up and onboarding process, as well as understand how customer verification works.
Trust and Transparency: Both Block and our future customers care deeply about the reputation of our future partners who will facilitate on/off ramp transactions for customers. Following the applicable rules and regulations in the countries is key to earning the trust of customers, policymakers and us. We all need a long-lasting ecosystem where customers can safely move between bitcoin and fiat currencies. Our promise is to operate transparently and therefore we also ask our partners to help us understand how they operate locally and globally in the countries they serve. Additionally, trust and transparency is not only about how companies follow the applicable rules but how they communicate and partner with customers, policymakers and others in the industry globally.
The Customer Experience
We have designed our partner integration with a customer-first approach, to make the buy and sell use case transparent and simple. This means starting from first principles about the things customers care about when they go to buy or sell bitcoin: the payment method they want to use; how much it costs; how long it takes to move the money; how easy it is to create an account; and how seamless and safe it is to access your account if you're already an existing customer.
We want to provide our customers as much information as needed to make informed decisions when choosing an on/off ramp partner that suits the needs of any given transaction by checking the following:
Whether or not a partner can serve them in their selected country
Whether or not a partner can accept the transaction in a given fiat currency
The payment method they want to use to buy or sell bitcoin
The price, including both conversion fee/spread, and transaction or exchange fees, for a given amount, at a given time
Ultimately, the final amount in bitcoin the customer will receive post-transaction in a buy / on-ramp transaction, or the final amount of fiat currency they will receive in a sell / off-ramp transaction
The below is a first look at what we expect this to look like for our customers: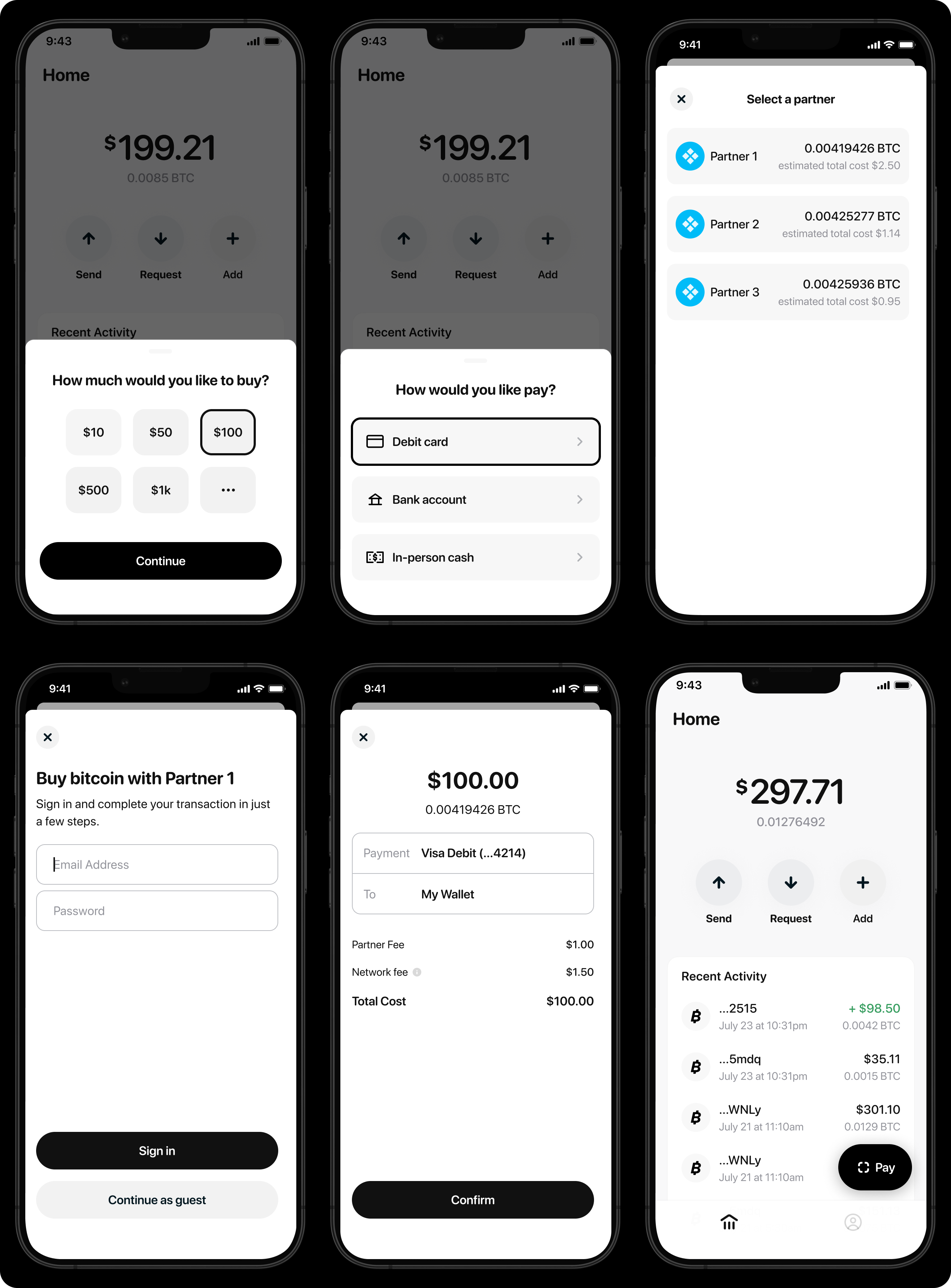 Other type of partnerships
In addition to on/off ramp partners, we will build other type of partnerships over the long-term:
Retail and Distribution Partners: In order to reach customers globally, we will build partnerships with companies who already have an established distribution network and ability to help our customers pay for the wallet with the most relevant local payment methods. This means companies like telecommunications companies who often have both a retail footprint in addition to their online and phone sales channels, along with local payment methods that matter (e.g. direct carrier billing which especially matters in markets where debit and credit card penetration is low and telcos are places where you also pay for other 3rd party services). These types of retail partners who also have sticky recurring payment and billing relationships with their customers will help us as we may likely provide both one-time and subscription services.
Payment Partnerships: Another objective of ours is to increase bitcoin's use cases and relevance as a payment method by working with partners who also want to increase merchant-acceptance of bitcoin and widen consumer adoption. This could look like point of sale partnerships with seller and merchant services, payroll partnerships and many other types of partnerships.
What's next?
We are already starting to put this criteria to work as we explore and build with potential partners today. Our goal is to have a few early partners integrated with us later this year as we bring our product to market and we expect those partnerships to grow in the months and years after that.
As this post outlines, finding great partners is key to making self-custody a realistic option for a broad audience.
We would like to hear from you as we work to make this a reality:
Are there any criteria or considerations you think we should add or adjust?
Which companies do you think we should partner with, and why?
If you or your company are also excited about increasing the number of people around the world who benefit from bitcoin and the true financial ownership that comes from self-custody, get in touch: we'd love to explore ways to partner and build something magical for customers.
You can reach us at bitkey@block.xyz or on Twitter (@Ltgrossman and @noaf_BTC).